värmeisolering ljudisolerade 5 mm tjocktegelplattor i hög kvalitet
"Iron Crown" MgO värmebeständigt böjda takplåt är en typ av NY typ av takplattor. Dess huvudsakliga råa
Materialet är Magnesiumoxid, Magnesiumklorid, Talcumpulver, Glasfiberduk, Sågdamm och annat
tillsatser, utan asbest, formaldehyd och annat skadligt ämne.
Dess gröna oorganiska råmaterial och 2 lager av glasfiber som ramverk säkerställer kakelens karaktär: Hög
Styrka, Brandsäker, Värmeisolering, Acid & Alkalibeständig, mer än 15-30 livslängd.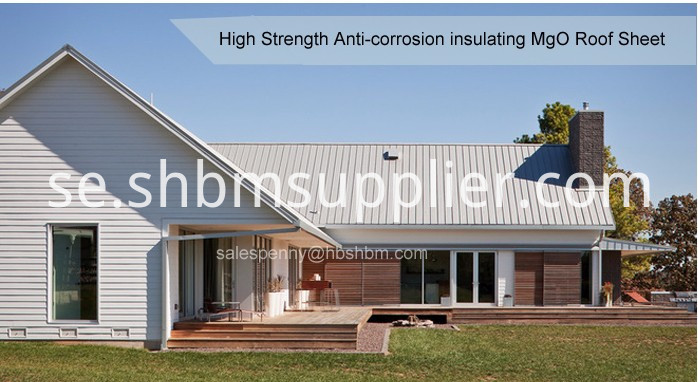 Specification

Length

Width

thickness

1m-5.8m

Popular size: 2m,2.4m,6m

0.96m

4mm; 5mm

We can also produce different sizes according to customers demand

Technical Data

Horizontal breakage

> 3100N/m

Vertical breakage

> 305N/m

Anti-corrosion

When PH is between 2-12, it won`t be affected

Fire refractoriness

Over 1200℃

FÖRDEL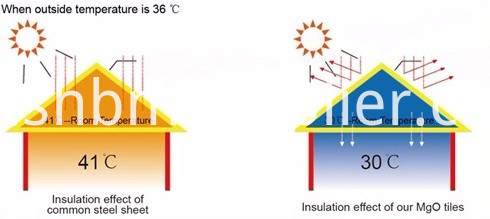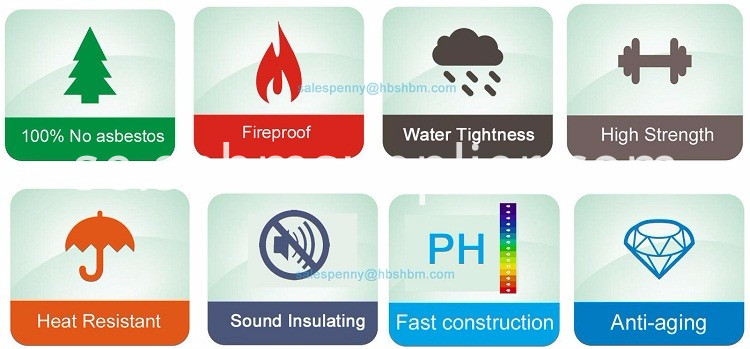 Advantage for MgO roofing sheet

Environmental friendly

Main raw material: MgO, MgCl2, Talcum powder, glass fiber mesh, etc

100% no asbestos and other harmful substance

Fireproof

Refractory temperature>1200℃

Acid&Alkali resistant

When PH is 2-12, the sheet will not be affected

Never corrode or grow moss , long service life

Heat Insulated

MgO is a kind of natural heat insulation material

Heat conductivity 0.169w/m.k, far less than other roofing material

Reduce indoor temperature by 4-6degrees, save energy

Sound proof

When raining outside, no noise in the room

High Strength

Horizontal breakage > 3100N/M

Vertical breakage > 305N/M

Load more than 150KGS

Anti-typhoon

Because of its high strength, high density and high strew holding capability, it could resist typhoon.

Cut loss and won`t hurt others.
Högprestandan gör det mgo takplåt lämpligt för användning i hög temperatur, hög korrosionsindustrin, såsom kemiska anläggningar, matningsramar, gjutningsfabrik, arbetsplatser, lager, marknadsskur, bostads tak mm
1. Bostadshus
Med god miljövänlig, värmebeständig, ljudisolerad prestanda och vacker inredning,
Det används ofta i olika länder och regioner folk håller, väl mottagen av kunden.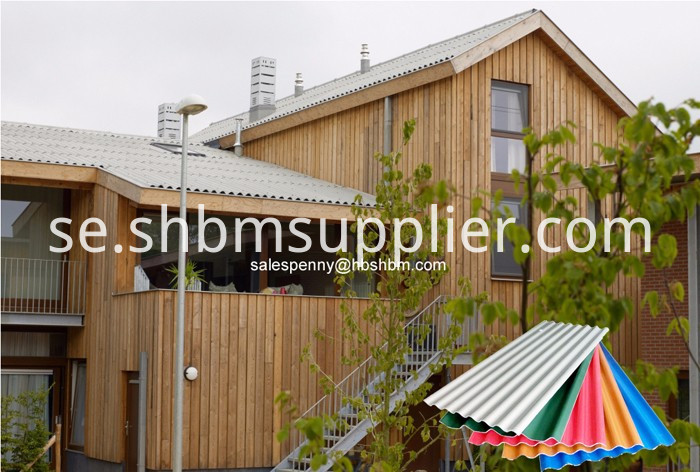 2 . Lantbruks- och boskapsskötsel
Takmaterialet brukade vara stålplåt. Efter ca 3 år rustade stålplåten på grund av det höga
korrosionsmiljö krossade hela huset så småningom.
Nu byter de till våra MgO Roofing-plattor, är utmärkta f- äggfasta och sura och alkaliska resistenta
prestanda. Den kan användas i mer än 15 år , vilket minskar arbetskraftskostnaden och materialkostnaden för
takbyte.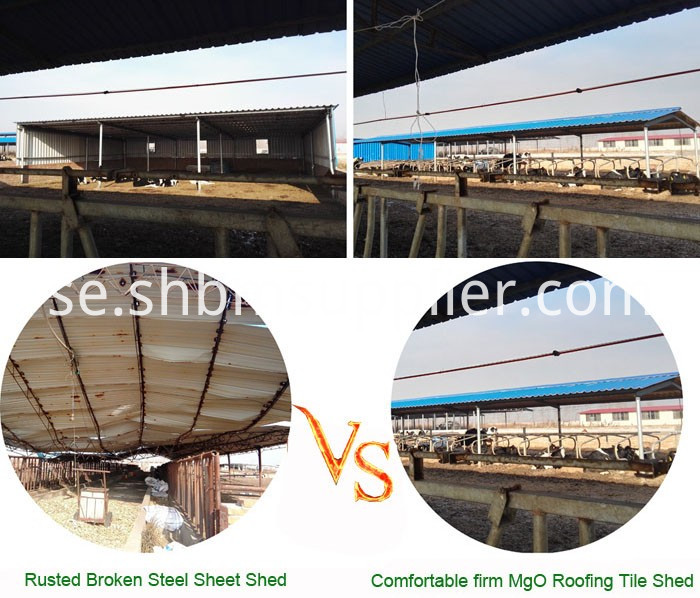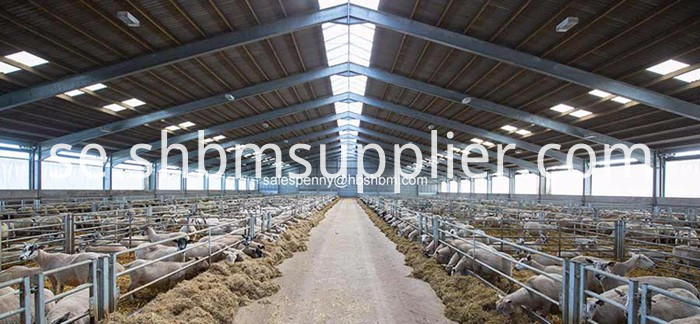 2. Fabrik
De mgo takplåt har utmärkt syra och alkali resistent prestanda, förlänger byggnadernas livslängd.
göra den integrerade kostnaden mycket lägre, skapa mer vinst för innehavare.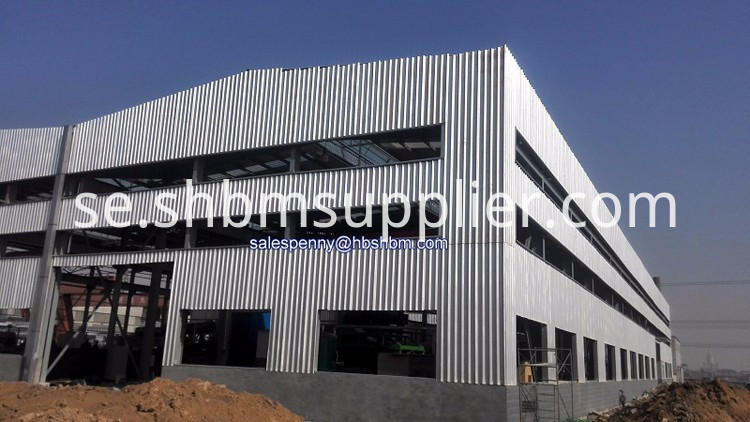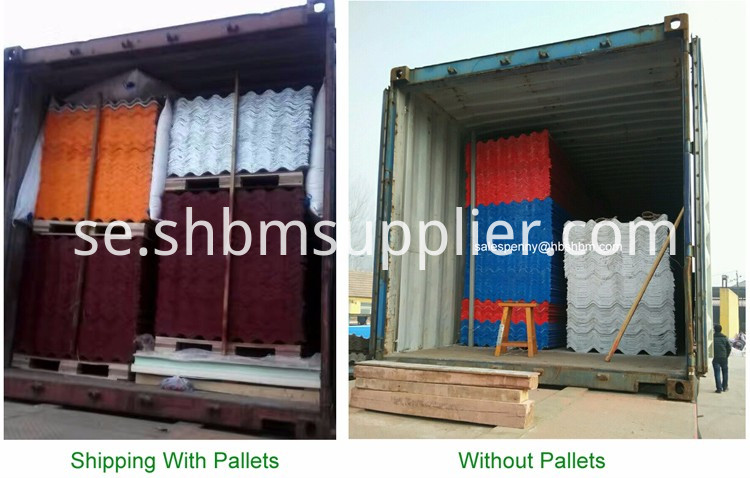 Produktkategorier : ECO Friendly Roof Sheets > Glasade MgO takplåt